embroidery monogram
Showing all 3 results
Sale!
Aubrey Embroidery Font Set – 1″, 2″, 3″
This is such a nice thick satin stitch!  Great for names!  Perfect for dense fabrics, towels, blankets and more! Sizes:  1", 2", 3" Included:  Uppercase & Lowercase Letters Stitch Type: 1" Satin Stitch; 2" & 3" Wide/Weaved Satin Stitch
IMPORTANT INFO:
BX files are included with every format. Please visit our
FAQs
 for the answers to the most common questions. Please see our
Terms of Use
for the most up-to-date information on the use of our files. [apss_share networks='facebook, twitter, pinterest, google-plus']
not rated
$

6.00
Select options
Sale!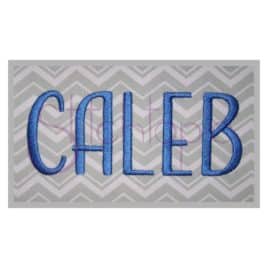 Caleb Monogram Set – .5″, 1″, 1.5″, 2″, 2.5″, 3″
This is the perfect set for names!  Works for boy & girl names, adult names & last names.  Also works great for monograms!  Also available in larger sizes. Sizes: .5", 1", 1.5", 2", 2.5", 3" Included: Uppercase Letters & Numbers Stitch Type: .5", 1", 1.5", 2" Satin Stitch; 2.5", 3" Weaved Satin Stitch
IMPORTANT INFO:
BX files are included with every format. Please visit our
FAQs
 for the answers to the most common questions. Please see our
Terms of Use
for the most up-to-date information on the use of our files. [apss_share networks='facebook, twitter, pinterest, google-plus']
not rated
$

6.00
Select options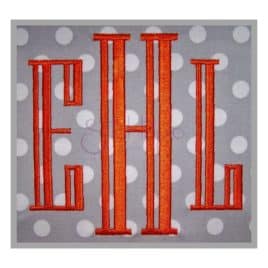 Engraved Monogram Set – 4.5″, 5″, 5.5″, 6″, 7″, 8″
Use all of the different sizes to create custom monograms with this beautiful and unique monogram set!  Also available in smaller sizes.  Great for pillows and other home decor items, perfect for personalizing wedding gifts, great on textiles and more! Sizes: 4.5", 5", 5.5", 6", 7", 8" Included: Uppercase Letters Stitch Type: Wide/Weaved Satin Stitch
IMPORTANT INFO:
BX files are included with every format. Please visit our
FAQs
 for the answers to the most common questions. Please see our
Terms of Use
for the most up-to-date information on the use of our files. [apss_share networks='facebook, twitter, pinterest, google-plus']
not rated
$

6.00
Select options