paris embroidery font
Showing all 3 results
Sale!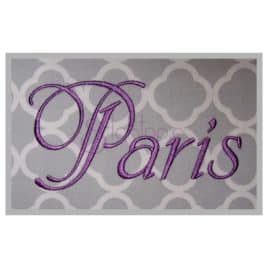 Paris Embroidery Font Set – 1″, 1.5," 2″, 2.5″, 3″
This is such a beautiful set for formal projects!  You can also create gorgeous monograms with the uppercase letters!  A full set of numbers and 6 punctuation/symbols are included for added versatility.  Beautiful for wedding & shower gifts, anniversaries, birthdays, accessories, textiles or any time you need a non-connecting script font! Sizes: 1", 1.5", 2", 2.5", 3" Included: Uppercase & Lowercase Letters (Aa-Zz), Numbers (0-9), 6 Punctuation ,.'/-& Stitch Type: Satin Stitch
IMPORTANT INFO:
BX files for
Embrilliance
Software
are included with every format. Please visit our
FAQs
 for the answers to the most common questions. Please see our
Terms of Use
for the most up-to-date information on the use of our files. [apss_share networks='facebook, twitter, pinterest, google-plus']
not rated
$

5.99
Select options
Sale!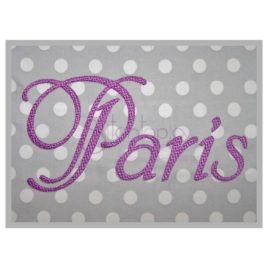 Paris Filled Embroidery Font – 4″ 4.5″ 5″ 6″ 7″
This is such a beautiful set for formal projects!  You can also create gorgeous monograms with the uppercase letters!  A full set of numbers and 6 punctuation/symbols are included for added versatility.  Beautiful for wedding & shower gifts, anniversaries, birthdays, accessories, textiles or any time you need a non-connecting script font!  Also available in smaller sizes. Sizes: 4", 4.5", 5", 6", 7" Included: Uppercase & Lowercase Letters (Aa-Zz), Numbers (0-9), 6 Punctuation ,.'/-& Stitch Type: Tweed Pattern Fill with Bean Stitch Outline
IMPORTANT INFO:
BX files for
Embrilliance
Software
are included with every format. Please visit our
FAQs
 for the answers to the most common questions. Please see our
Terms of Use
for the most up-to-date information on the use of our files. [apss_share networks='facebook, twitter, pinterest, google-plus']
not rated
$

5.99
Select options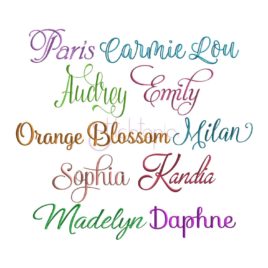 Script Embroidery Font Bundle #2 – 10 Fonts
TEN embroidery script fonts included!  Various sizes for each font.  See below for sample item dimensions for each set. INDIVIDUAL FONTS CANNOT BE REPLACED OR SUBSTITUTED. Includes:
Paris Embroidery Font 
Sizes: 1″, 1.5″, 2″, 2.5″, 3″
Carmie Lou Embroidery Font 
Sizes: 1″, 1.5″, 2″, 2.5″
Audrey Embroidery Font 
Sizes: 1″, 2″, 3″
Emily Embroidery Font 
Sizes: 1″, 2″, 3″
Orange Blossom #1 Embroidery Font 
Sizes: .5″, 1″, 1.5″, 2″, 2.5″, 3″
Milan #1 Embroidery Font 
Sizes: 1″, 1.5″, 2″, 2.5″, 3″
Sophia Embroidery Font 
Sizes: 1″, 2″, 3″
Kandia #1 Embroidery Font 
Sizes: 1″, 1.5″, 2″, 2.5″, 3″
Madelyn Embroidery Font 
Sizes: 1″, 1.5″, 2″, 2.5″, 3″
Daphne Embroidery Font 
Sizes: .5", 1″, 1.5″, 2″, 3″
IMPORTANT INFO:
BX files for
Embrilliance
Software
are included with every format.  A BX Key is included for sets with alternate letters. Please visit our
FAQs
 for the answers to the most common questions. Please see our
Terms of Use
for the most up-to-date information on the use of our files. [apss_share networks='facebook, twitter, pinterest, google-plus']
not rated
$

29.99
Select options