samantha monogram font
Showing the single result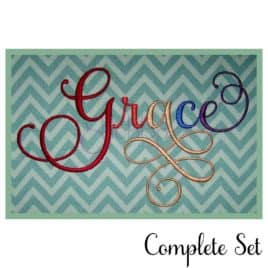 Grace Embroidery Font Bundle #1-6 – 2″, 3″, 4″
The complete set is here!  See all of the images to all of the beautiful letters included in this set! These gorgeous letters are perfect for adding names to clothing, bedding, home decor, accessories and so much more!  We offer tons of options across all of the Grace Sets for customizing your projects! If you have a 4×4 hoop limitation, Grace 3 & 5 may be better options for you as some of the letters are extremely large in Grace 1, 2, 4, & 6.
GRACE SIZING INFORMATION
Sizing is based on the height of the capital A in the Grace 1 Monogram Set. The 2", 3" and 4" names are solely for ease of combining with other Grace Sets.  For example, the 2" capital letters will work with the 2" lowercase letters from any set. Actual letter size will vary greatly from set to set depending on swashes & swirls.
GRACE SETS
All Grace sets are from the same parent font. Each set can be used on its own or letters can be combined and interchanged with every Grace Set. Please see individual listings for specific info for each set. Sizes: 2", 3", 4" * Included: Uppercase Letters, Lowercase Letters, Alternate Lowercase Letters, Numbers, Punctuation (see images) Stitch Type: Satin Stitch *actual sizes vary across all Grace Sets - 2", 3", 4" sizes listed in file names are for ease of combining letters with other Grace Sets
Dimensions:
(4.21″ w x 2.01″ h), (6.3″ w x 2.99″ h), (8.43″ w x 4.02″ h) Stitch Count: 2138, 3295, 4339 Dimensions & Stitch Count based on the Capital A in Grace 1.
IMPORTANT INFO:
BX files for 
Embrilliance
Software
 are included with every format. A BX key is included for locating alternate letters. Please visit our
FAQs
 for the answers to the most common questions. Please see our
Terms of Use
for the most up-to-date information on the use of our files. [apss_share networks='facebook, twitter, pinterest, google-plus']
not rated
$

30.00
Select options